Lot Of 168 Precious Moments Figurines And Other Items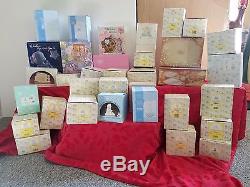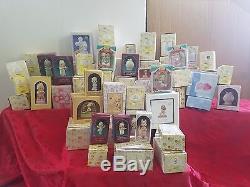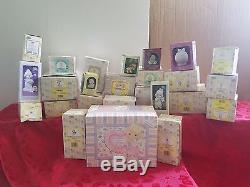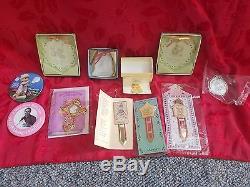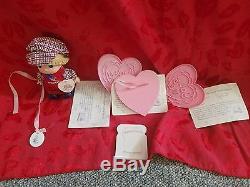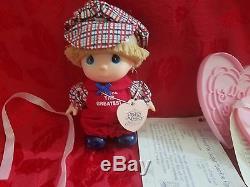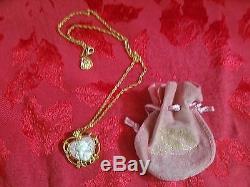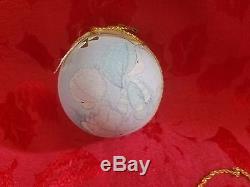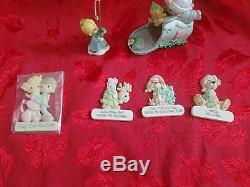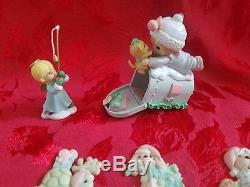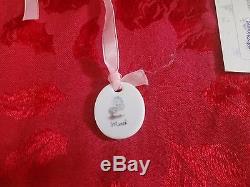 THERE ARE NO CRACKS OR CHIPS. THEY WERE KEPT IN A CLIMATE CONTROLLED HOME THAT WAS PET AND SMOKE FREE. SOME OF THE PIECES HAVE NO BOX AND ARE NOTED IN THE DESCRIPTION BELOW. THANK YOU FOR VIEWING THESE ITEMS.
Name of Figurine Year Code Number. LOVE BLOOMS ETERNAL 1994 #127019. GIRL SKATING HOME FOR THE HOLIDAYS ORNAMENT NO BOX 1995 #182370. BOY & GIRL /WREATH HOME FOR THE HOILADYS ORNAMENT 1995 #182370V/F.
BOY AND GIRL SKATING CANDLE TOPPER /NO TAG 2000 #770728. SUMMER JOY CAROUSEL HORSE FIGURINE / NO TAG 2000 #843709. THE VOICE OF SPRING CAROUSEL HORSE FIGURINE / NO TAG 2000 #843687. ANGEL ICICLE ORNAMENT/ NO TAG 2000 #811769. 2 PIECES/ FOUR SEASONS BELLES/ AUTUMN BELLE/ NO TAGS 2001 #104554. IT'S TIME TO BLESS YOUR OWN DAY COLLECTORS CLUB GIRL WITH. FLOWERS CLOCK/ NO TAG/ 1 AA BATTERY 2001 #102926. THERE A CHRISTIAN WELCOME HERE 1989 #523011. MAKE ME A BLESSING/ RETIRED1990 1986 #100102. MARCH /WATER GLOBE NO TAG 1987 #557978. FRIENDS WRITE FROM THE START BOX SET/ PAPER & ENVELOLPES.
2001 SYMBOL OF MEMBERSHIP FIGURINE 2000 #25150/ #C0021. DANIEL AND THE LIONS/ NO TAG 1998 #488291.
MAY YOUR CHRISTMAS BE A HAPPY HOME/ SECOND ISSUE IN THE. MASTERPIECE ORNAMENT SERIES 1990 #523704. THE GREATEST GIFT IS A FRIEND 1987 #109231. WE'RE SO HAPPY YOU'RE HERE 1997 EVENT FIGURINE 1996 #261351. PIZZA ON EARTH 1997 #521884. HELP LORD, I'M IN A SPOT/ RETIRED 1989/ 1986 #100269.
ALWAYS TAKE TIME TO PRAY/1995 MEMBERS ONLY FIGURINE 1995 #PM952. MEMORIES ARE MADE OF THIS 1994 EVENTS FIGURINE 1993 #529982. LOVE IS KIND 1998 LIMITED EVENT FIGURINE 1998 #E1379R. I'II GIVE HIM MY HEART 1995 #150088.
OH HOLY NIGHT SPECIAL 1989 ISSUE 1989 #522546. THE LORD WILL CARRY YOU THROUGH 1985 #12467. MAY ONLY GOOD THINGS COME YOUR WAY 1990 #524425. PRECIOUS MOMENTS TO REMEMBER 1995 #163848. SOMEBODY CARES SPECIAL 1998 LIMITED EDITION 1997 #522325. PRAISE GOD FROM WHOM ALL BLESSINGS FLOW 1998 #455695. SHARING BEGINS IN THE HEART 1988 #520861. A FRIEND IS SOMEONE WHO CARES 1988 #520632. THIS IS YOU DAY TO SHINE / NO TAG 1983 #E2822. FORK OVER THOSE BLESSINGS TO OTHERS 1997 #307033. CATCH YA LATER 2002 #358959. A SPECIAL TOAST TO PRECIOUS MOMENTS / 1997 SYMBOL OF MEMBERSHIP 1996 #C0017. SEW IN LOVE 1987 #106844.
LIFE CAN BE A JUNGLE 1997 #325457. BLESSED ARE THE MERCIFUL 1997 MEMBERS ONLY FIGURINE 1996 #PM972. LOVING CARING AND SHARING ALONG THE WAY 1993 SYMBOL. A FESTIVAL OF PRECIOUS MOMENTS 1997 #270741C.
I'M SENDING YOU A MERRY CHRISTMAS 1998 ANNUAL EDITION 1998 #455601. CELEBRATE A MOTHER'S LOVE BOX SET WITH BOOK 2007 #740003.
MAY YOUR CHRISTMAS BE DELIGHTFUL MINATURE ORNAMENT 1985 #15849. WISHING YOU A WORLD OF PEACE 1999 SYMBOL OF MEMBERSHIP.
BOX SET / WISHES BEGIN WITH YOU REACH FOR THE STARS FRAME 1998 #C0019. HELLO WORLD AN ADDITION TO THE BIRTHDAY SERIES 1988 #521175. OH HOLY NIGHT SPECIAL 1989 ISSUE MINATURE ORNAMENT 1989 #522848. MAY YOUR CHRISTMAS BE DELIGHTFUL MINATURE ORNAMENT NO TAG 1990 #575496. MANY YEARS OF BLESSING YOU 1997 #384887.
PURR-FECT FRIENDS NO TAG 2012 #124015. OH WHAT FUN IT IS TO RIDE NO TAG 1987 #109819.
GIRL WITH SNOWFLAKE ROTATING MUSICAL/. PLAYS " IT CAME UPON A MIDNIGHT CLEAR " NO TAG 2008 #990012. IT IS NO SECRET WHAT GOD CAN DO SPECIAL 1994 LIMITED EDITION 1993 #531111. IT'S TIME TO BLESS YOUR OWN DAY 2002 SYMBOL OF MEMBERSHIP 2001 #C0022. MY HAPPINESS 1990 SYMBOL OF MEMBERSHIP 1989 #C0010. YOU COLOR OUR WORLD WITH LOVING, CARING AND SHARING 1999 #644463. THE FUTURE IS IN OUR HANDS 2000 GIRL W. LORD, KEEP ME ON MY TOES 1985 #100129. HE WALKS WITH ME 1986 #107999. PEACE ON EARTH- FIRST ISSUE IN THE MASTERPIECE ORNAMENT. SERIES/ SPECIAL 1989 ISSUE 1989 #523062.
JONAH AND THE WHALE NO TAG 1998 #488283. OWL BE HOME FOR CHRISTMAS 1996 ANNUAL EDITION ORNAMENT 1996 #128708. CAN YOU JOIN US FOR A MERRY CHRISTMAS. 1997 ANNUAL EDITION ORNAMENT 1997 #272728.
BRIGHTEN SOMEONE'S DAY 1987 #105953. MAKE A JOYFUL NOISE 1978 #E1374G. COLLECTION PLAQUE 1982 PRECIOUS MOMENTS LAST FOREVER. PORCELAIN BISQUE COLLECTION NO TAG 1982 #E6901. SWEETER AS THE YEARS GO BY 1996 #522333.
GOD'S SPEED 1979 #E3112. YOU'RE MY HONEY BEE NO TAG 1998 #487929. JESUS IS THE LIGHT 1978 #E1373G. HAVE A HEAVENLY JOURNEY 1998 #12416R. THERE IS JOY IN SERVING JESUS 1981 #E7157.
HE LEADETH ME 1998 LIMITED EDITION EVENT FIGURINE 1998 #E1377R. PACK YOUR TRUNK FOR THE HOLIDAYS 1997 ANNUAL EDITION 1997 #272949. HOLIDAY ORNAMENT HOME FOR THE HOLIDAYS COLLECTION 1995 #182370. 2000 SYMBOL OF MEMBERSHIP 2000 #C0020. YOU CRAFTED A PLACE IN MY HEART. 3.5X3 PHOTO FRAME / HEART SHAPED BOX SET 2007 #730002.
GLIDE THROUGH THE HOLIDAYS ORNAMENT NO TAG 1990 #521566. ONCE UPON A HOLY NIGHT SPECIAL 1990 ISSUE NO TAG 1990 #523836.
CAUGHT UP IN SWEET THOUGHTS OF YOU 1998 #521973. HOLIDAY WISHES, SWEETY PIE/ HOLIDAY ESSENCE. PORCELAIN FIGURINE & POTPOURRI PIE GIFT SET 1997 #312444. A PERFECT DISPLAY OF 15 HAPPY YEARS. MEMBERS ONLY 15TH ANNIVERSARY FIGURINE 1994 #127817.
I CAN'T SPELL SUCCESS WITHOUT YOU 1990 #523763. ONCE UPON A TIME MUSCIAL/ WALT DISNEY SHOWCASE. COLLECTION / PLAYS A DREAM IS A HEART MAKES / NO TAG 2009 #893501. SURE COULD USE LESS HUSTLE & BUSTLE 2000 #737550. SLIDE INTO THE NEXT MILLENNIUM WITH JOY 1999 ANNUAL EDITION 1999 #587761. THE GOOD LORD WILL ALWAYS UPHOLD US 1997 #325325. LEAD ME TO CALVARY 1996 #260916. GOD BLESS YOU FOR TOUCHING MY LIFE 1988 #PM881. SHARE THE GIFT OF LOVE/ TRUMPET ANGEL MUSCIAL. PLAYS " HARK THE HERALD ANGELS SING " 2009 #101106.
FILLED WITH WONDER AND JOY ON THIS SPECIAL NIGHT 2007 #810024. DROPPING IN FOR THE HOLIDAYS 1994 #531952. GOOD NEWS IS SO UPLIFTING 1991 #523615. THE PURR-FECT GRANDMA 1979 #E3109. TAKE TIME TO SMELL THE FLOWERS 1994 #524387.
HAPPINESS TO THE CORE/ LIMITED EDITION 1996 #261378. YOU ARE THE MAIN EVENT 1987 #115231. CHRISTMAS IS RUFF WITHOUT YOU ORNAMENT 1989 #520462. MERRY CHRISMOOSE/ HOLIDAY ORNAMENT 1995 #150134. THERE'S ALWAYS A PLACE IN MY HEART FOR YOU PORCELAIN.
COVERED BOX/ FRIENDS ARE HELD WITHIN THE HEART FRAME. 25TH ANNIVERSARY CLUB COLLECTION/ BOX BANGED UP A LITTLE 2002 #C0023 #11768BOX #11769 FRAME. SHARING THE GOOD NEWS TOGETHER 1990 #C0011. DON'T LET THE HOLIDAYS GET YOU DOWN 1990 #521590. "AUTUMNS PRAISE" CAROUSEL HORSE FIGURINE 2000 #? YOU'RE THE SWEETEST COOKIE IN THE BATCH 1994 #C0015.
THE CLUB THAT'S OUT OF THIS WORLD 1991 #C0012. THANK YOU LORD FOR EVERYTHING 1989 #522031. MAY YOUR CHRISTMAS BE MERRY 3RD ISSUE IN ORNAMENT SERIES 1991 #526940. LOVE LIFTED ME 1978 #E1375A.
LORD, HELP ME STICK TO MY JOB 1989 #521450. YOU WILL ALWAYS BE A TREASURE TO ME 1997 #PM971. YOU'RE JUST AS SWEET AS PIE 1997 #307017. HE COVERS THE EARTH WITH HIS BEAUTY 1995 #142654. SCENT FROM ABOVE/ NO TAG/ BOX A LITTLE ROUGH 1986 #100528.
A GROWING LOVE 1987 #E0008. ALWAYS ROOM FOR ONE MORE 1988 #C0009. I'M A PRECIOUS MOMENTS FAN/ SPECIAL 1990 LIMITED EDITION 1989 #523526.
WADDLE I DO WITHOUT YOU 1985 #12459. BOY DECORATING TREE ORNAMENT NO BOX OR TAG 1995 #178047L. GIRL ON SLED TREE ORNAMENT NO BOX OR TAG 1995 #182370.
2 PIECES/ 31/2 X 31/2 VINTAGE ENESCO PICTURE FRAME MAGNET NO BOX OR TAG. IT'S TIME TO BLESS YOUR OWN DAY COLLECTORS CLUB.
GIRL FLOWERS CANDLEHOLDER WITH CANDLES NO BOX OR TAG 2000 #102429. OUR FIRST CHRISTMAS TOGETHER GLASS BELL ORNAMENT.
MERRY DREAMS COLLECTION (UNDATED) NO BOX/ NO TAG 1995 #141933. YOU ARE THE END OF MY RAINBOW SYMBOL OF MEMBERSHIP 1994. NO BOX/ NO TAG 1993 #C0014.
HAPPY ANNIVERSARY 40TH NO BOX/ NO TAG 1989 #? MOTHER SEW DEAR PORCELAIN BELL NO BOX/NO TAG 1981 #E7181. PRESS ON NO BOX/ NO TAG 1982 #E9265. BIRTHSTONE MARCH NO BOX/ NO TAG 1996 #261270. UNTO US A CHILD IS BORN NO BOX/ NO TAG 1989 #E2013.
A MOM'S LOVE IS THE BEST GIFT OF ALL NO BOX/ NO TAG 2003 #? OUR FIRST CHRISTMAS TOGETHER NO BOX/ NO TAG 1996 #183911. CLOWN NO BOX/ NO TAG 1984 #122381C. PRAISE THE LORD ANY HOW NO BOX/ NO TAG 1982 #E9254.
PEACE ON EARTH MUSICAL GLASS GLOBE NO BOX/ NOTAG 2003 #ENWTB322. I GET A CLUCK OUT OF YOU NO BOX/ NO TAG 2002 #104270. IF GOD BE FOR US WHO CAN BE AGAINST US NO BOX / NO TAG 1982 #E9285. HE CLEANSED MY SOUL NO BOX/ NO TAG year?
YOU'RE PRETTY AS A PICTURE NO BOX/ NO TAG 1996 #C0016. HE'S THE HEALER OF BROKEN HEARTS NO BOX/ NO TAG 1986 #100080.
I'M SENDING YOU A WHITE CHRISTMAS BELL ORNAMENT 1986 #208264. SNOWFLAKE ORNAMENT, MAY YOUR CHRISTMAS BE WARM 1990 #226807. SNOWFLAKE ORNAMENT, TELL ME THE STORY OF JESUS 1990 #226807. BOOKMARK, WHAT THE WORLD NEEDS NOW #447161 NO RAPPER. BOOKMARK, PRECIOUS MOMENTS BOOK MARK #?
BOOKMARK, WE ARE ALL PRECIOUS IN HIS SIGHT #? 156 3 PIECES, YOU & ME PINK HEART COOKIE PRESS #? SLOW DOWN AND ENJOY THE HOLIDAYS/ MAGNET. TAKE A BOUGH CUZ YOU'RE MY CHRISTMAS STAR/ MAGNET. MARCH CERAMIC PENDANT ON A PINK RIBBON. CAMEO GIRL PINK HEART GOLD PENDANT NECKLACE 18 WITH BAG. 5 YEAR MEMBER PIN WITH BOX. HI BABY- YOU'RE THE GREATEST WITH TAG NO BOX.
PIN/ MEMORIES ARE MADE OF THIS. PIN/ I MET SAM OCTOBER 18 1997. The item "LOT OF 168 PRECIOUS MOMENTS FIGURINES AND OTHER ITEMS" is in sale since Wednesday, August 09, 2017.
This item is in the category "Collectibles\Decorative Collectibles\Decorative Collectible Brands\Precious Moments\Figurines\Lots". The seller is "allegrestrad_0" and is located in Lansdale, Pennsylvania. This item can be shipped to United States.