Precious Moments Lot 32 Pieces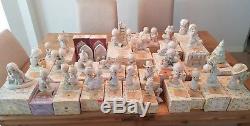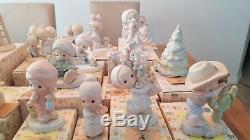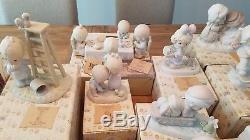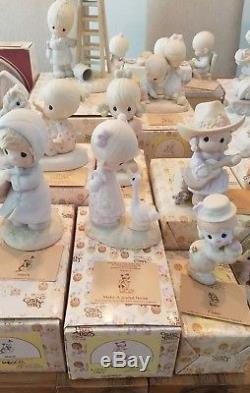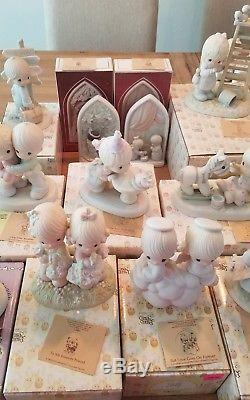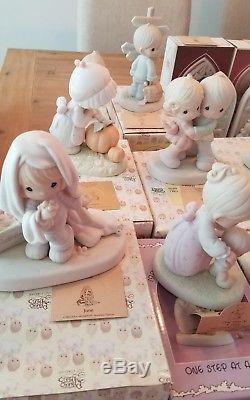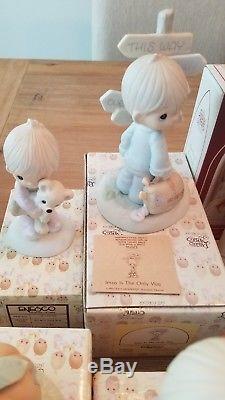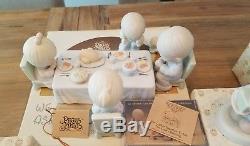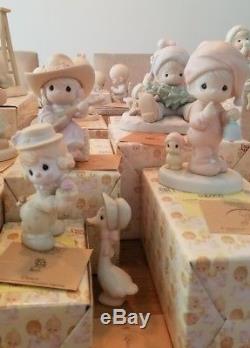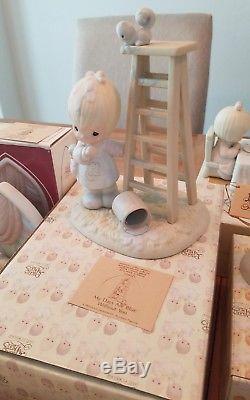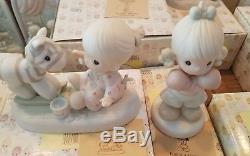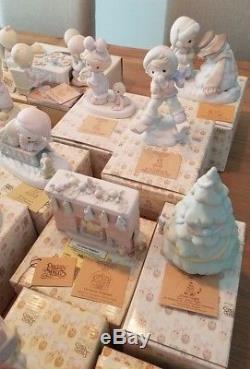 Pre 2000 Precious Moments Figurines (& one Ornament) - most have original boxes and display cards unless otherwise noted with Symbols listed. Boy With Teddy Bear - E- 13272/B - Cross. Jesus Is The Only Way - 520756 - Bow & Arrow. Hug One Another - 521299 - Butterfly. We Gather Together To Ask The Lord's Blessing - 6 Piece Set w/cassette - Vessel.
Warmest Wishes For the Holidays #455830 - Star Symbol. Bundles of Joy - E-2374 - Butterfly. May You Have the Sweetest Christmas - A Member of the Precious Moments Christmas Scene - 15776 - Vessel.
A Special Chime for Jesus - 524468 - Butterfly. Silent Night - An Addition to the Precious Moments Christmas Scene - 15814 - Music Box - Great Condition.
Christmas Fireplace - Additon to the Family Christmas Scene - 524883 - Flame. It's So Uplifting to Have a Friend Like You - 524905 - G-Clef. Don't Let The Holidays Get You Down - 522112 - Butterfly. Bringing You a Merry Christmas - 527599 - Boat. Tied Up For The Holidays - 527580 - Butterfly.
We're Going To Miss You - 524913 - Heart. Thou Art Mine - E-3113 - Butterfly. Clown - 12238/D - Trumpet. Hallelujah Hoedown - 1996 Event Figurine - 163864 - Heart.
March - 110019 - Flame. June - 110043 - Flower. October - 110094 - Heart. But Love Goes On Forever - E-3115 - Heart.
Faith Is A Victory - 521396 - Bow & Arrow. To My Forever Friend - 100072 - Vessel.
My Days Are Blue Without You - 520802 - Flame. May Your Every Wish Come True - 524298 - Butterfly. One Step At A Time - 1990 Members Only Figurine - Vessel.
Blessed Are The Meek, For They Shall Inherit The Earth (Limited to 12 months of Production) 523313 - Butterfly. Blessed Are The Poor In Spirit For Theirs is the Kingdom of Heaven (1992 Limited Edition) 523437 - G-Clef. The Holy Trinity - Father, Son and Holy Spirit.
Represents the time we have on earth to serve the Lord. Earliest symbol used by believers of the early church. Symbol of love and peace. Symbol of peace and understanding. Symbol of strength, beauty and preservation.
Represents God's love for his children. Represents the power of the Bible. For those who have gone through the fire of life and found comfort in faith. A reminder of God's love which flows through the vessel of life.
Symbolizes the harmony of God's love. Represents the rebirth of man who comes from darkness into light. Loving, caring and sharing; signifies a battle cry and a herald of victory. Symbolically portraying a message of hope in the Bible.
Represents that the Word of God is sharper than any two edged sword. Symbolizes Precious Moments' 20th year and its lasting vision.
Represents the star that showed others where baby Jesus was born. The item "Precious Moments Lot 32 Pieces" is in sale since Saturday, August 4, 2018. This item is in the category "Collectibles\Decorative Collectibles\Decorative Collectible Brands\Precious Moments\Figurines\Lots". The seller is "jerseyken70" and is located in Cape Coral, Florida. This item can be shipped to United States.