Precious Moments Lot Amazing and Collectible Figurines 150+ Figurines Great Buy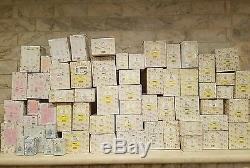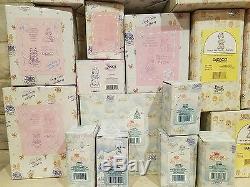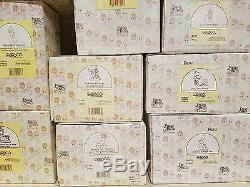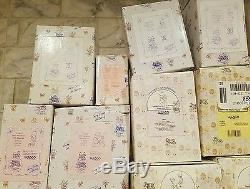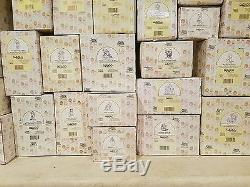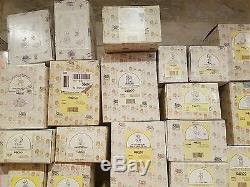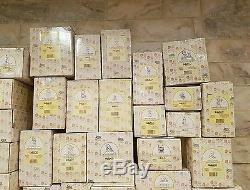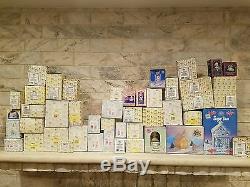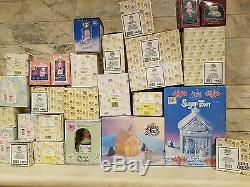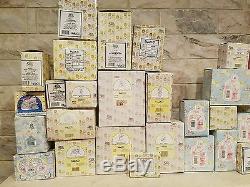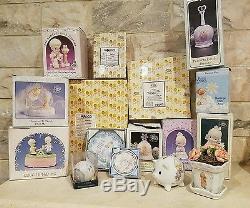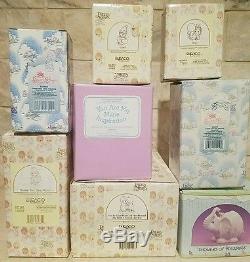 Great to add to your own collection. Trying to sell the whole lot in one but if you want anything from it message me and I will price it off separately and give you a great deal as well.
Once in a lifetime opportunity to own some of the rare and amazing Precious Moments figurines. All come in boxes and all come with documentation. All are brand new still in original packaging. All the boxes are in excellent condition. You can pick from the list below and hope to add on to your collection.
Slide Into Next Millennium With Joy 1999 Annual Edition. For The Sweetest Tulips In Town.
Bringing You A Merry Christmas. May Your World Be Trimmed With Joy. The Lord Is Counting On You.
My True Love Gave To Me. Follow Your Heart 1995 Event Figurine.
Some Plant, Some Water, But God Giveth The Increase. Hallelujah Hoedown 1996 Event Figurine.
You Can Always Fudge A Little During The Season. All Sing To His Praises, Addition To Nativity. The Future Is In Our Hands 2000 Annual Edition. An Event For All Seasons 1993 Event Figurine. The Lord Giveth And The Lord Taketh Away. Just A Line To Wish You A Happy Day. God Cared Enough To Send His Best. It's So Uplifting To Have A Friend Like You. Color Your World With Thanksgiving. Just Poppin In To Say Halo. I Believe In The Old Rugged Cross. Tied Up For The Holidays. I Haven't Seen Much Of You Lately, Addition To Birthday Series. We're So Hoppy You're Here 1997 Event Figurine. A Friend Is Someone Who Cares. Loving, Caring, Sharing Along The Way. You Have Touched So Many Hearts. You're The Sweetest Cookie In The Batch 1995 Symbol Of Membership Charter Club. Always Take Time to Pray. Teach Us To Love One Another 1996 Members Only Figurine. Loving 1993 Members Only Figurine. Caring 1994 Members Only Figurine. Sharing 1994 Members Only Figurine. Loving, Sharing, And Caring Along The Way 1993 Membership Appreciation Ornament. You Fill The Pages Of My Life 1994 Members Only Figurine. His Little Treasure 1993 Members only Figurine. You Make My Spirit Soar. Someone To Watch Over Me. May Your Wish Come True. To Thee With Love Boy MAnd Girl On Swing Vase.
The Lord Is My Sheppard Girl With Lamb Egg Shaped Handle Bell. Cane You Join Us For A Merry Christmas 1997 Annual Edition. Happiness Is The Bluebirds Song Musical Plaque.
To Thee With Love Boy And Girl On Swing Photo Frame. My Life Is A Vacuum Without You. Girl With Hearts Sculpted Plate. He Cover's The Earth With His Beauty. Sowing The Seeds Of Love. Blessings From Above Porcelain Bell. A Cardinal Is Filled With Vending Love. Only Love Can Make A Home. To Thee With Love Boy And Girl On A Swing Heart Shaped Plate. Make A Joyful Noise Girl With Goose Night Light. Girl Smelling Flower Heart Shaped Plaque. The Lord Is My Sheppard Girl With Lamb Dated 1994 Egg With Stand. Lord Keep Me On My Toes. 1992 Members Only Every Mans House Is His Castle. There's A Spot In My Heart For You 96/97 Members Only Figurine. Put A Little Punch In Your Birthday. We Have Come For You from Addition To Nativity. He Covers The Earth With His Beauty. You're Such A Perfect Friend.
Girl With Flowers Letter Holder. Pretty Girl With Bonnet Cover Box. Im Sending You A White Christmas. Wishing You A Basket Full Of Blessings.
The Greatest Gift Is A Friend. Girl With Bunny Egg Shaped Waterfall. Girl Mailing Snowball Music bell Box.
Girl With Kittens Heart Shaped Plaque. Peace On Earth Anyway Plate Plaque. Musical WaterBall Plays Ring Around The Rosie. Our First Christmas Together Special 1990 Issue. SugarTown Flours General Store Flour Canister. Children Christmas Pageant Nativity Mini Plate Hanging Ornament. He Covers The Earth With His Beauty Dated 1995 Porcelain Mini Plate With Easel.
1992 Love Is The Best Gift Of All A Dated Porcelain Ornament. May Your Birthday Be A Blessing Flower Pot. You Are My Mane Inspiration. Im So Glad That God Has Blessed Me With A Friend Like You. If I have any more they will be added to this list immediately.
This is an amazing collection and I want to pass it on to other collectors to complete their collections and so they can enjoy them just as much as I did. For any other questions please message me and I will get back to you right away. The item "Precious Moments Lot Amazing and Collectible Figurines 150+ Figurines Great Buy" is in sale since Monday, July 16, 2018. This item is in the category "Collectibles\Decorative Collectibles\Decorative Collectible Brands\Precious Moments\Figurines\Lots". The seller is "bubbba93" and is located in Englishtown, New Jersey. This item can be shipped to United States.